IT Support & Managed Services Guide
IT Support & Managed Services Guide


You may be considering your current IT Support set-up or perhaps you are wondering what IT Managed Services are? If so, this guide is aimed at you and will help owners & managers responsible for business IT understand these services. These people need to know the options, understand best practices and where the market & technologies are heading. Most importantly, the guide shows how taking advantage of best practice IT Support can help businesses to improve and develop.
Overview
IT Support can be delivered in many ways and the most suitable options will depend upon the size, needs and exact business situation. However, there are a number of well-established practices that are summarised as follows;
Outsourced IT Support
For most smaller companies having your own IT team is probably uneconomic. Therefore, outsourcing your support to a specialist IT provider is probably a cheaper and more sensible solution. Outsourced IT is provided by external teams with skilled engineers, systems and processes to support your IT system. Outsourced IT can also include 'Managed Services' which are explained below.
In-house IT Support
As your business grows or there's a high demand for technical support, developing an in-house IT team maybe an option. This gives you 100% full control of the resources and scope to shape the service to meet your exact needs. However, you also get all the costs, employment, training and staff development responsibilities. You also have to bear the full cost of any IT support systems and tools needed to undertake IT support. Depending upon the size, complexity and needs, this can be a significant investment.
Co-Managed IT Support
Alternatively, a third-way called Co-Managed IT support provides a blend of both in-house and outsourced IT resources & services. For example, outsourcing your front-end helpdesk support service, whilst retaining backend specialist support and system development. This model combines the best elements of Outsourced and In-house IT support, including flexibility and potential cost savings. You also need to consider the management and the interaction between the in-house and external suppliers too.
IT Managed Services
An IT Managed Services are a type of outsourcing and generally they are fully managed. Another common feature is that managed services are sold on a per unit consumption basis. This means you can move toward a pay as you use model that avoids large capital projects. This is now common and includes both managed products and managed services. For example, using email (such as Microsoft 365) provides you email account on a per use per month basis. Contrast this, to setting up & running your own email server and the benefits become obvious. This is especially true if you are a small or medium sized business. IT Managed Services now includes almost any technology and includes infrastructure, cyber-security and many aspects of traditional IT support.


Key Business Issues
Uncertain business environment
The challenges of Covid-19 and BREXIT present very uncertain times for business owners & managers. This may mean looking to cut overheads, reduce staff or find ways of working to meet these challenges. IT Support solutions such as outsourcing or co-managed support allow you to face these challenges. For example, outsourcing can remove headcount, whilst IT Managed Services can be turned on and off as needed. Thereby providing the flexibility and agility you need.


Wide mix of technologies
IT Support is more important than ever to ensure businesses remain operational and effective. However, you also need to support a bewildering mix of technologies. New IT such as cloud-based systems, often work alongside complex infrastructure, servers, backup and telephones. Therefore, your choose of IT support solution will be key in meeting these challenges. Therefore, look at the options including outsourcing, in-house and co-managed support and ensure any supplier can deliver what they claim.


Changing technologies
The IT environment is constantly changing, with new digital technologies and cloud services appearing and changing almost every day! This presents both opportunity and risk for those deciding which solutions to use. What you choose and when you change is going to be key. Maximising the benefits and minimising the risk can be a complex decision. Whichever path you take, the on-going support of your IT will be critical to your business. Make sure you develop a strong IT strategy, with detailed plans around change & migration. And ensure your IT support and service provision is robust.


Cyber-security
Cyber-security is a key area and increasingly a part of the on-going support process. Furthermore, IT support often includes small changes and minor upgrades, which can impact the cyber-security of IT systems. The formal processes around assessing change and the risk it presents can be challenging, especially for small businesses. Therefore, consider the various options for IT Support from a cyber-perspective and look for services & solutions that address this. Things like regular updates, software patching and rebooting of systems, as well as processes like ITIL that address change management.


Service Delivery
At the heart of any IT Support service is customer service and the quality of the service received. The current business climate may also add additional strain to your current provider or in-house team. If you are suffering operational or service issues, it maybe time to review your strategic approach & options. Whichever option you select, measuring, base-lining and quantifying service levels will be important. We suggest you keep verifying that services are improving and you are moving in the right direction.


Business Change
Finally, major business changes may also be a key factor in selecting or changing your IT Support solution. Business models change, staff move-on and businesses merge or relocate. Such events can place existing IT support models under pressure and bring new solutions or services into consideration. The external IT environment also progresses quickly and new tech drives new services. Therefore, also keep an eye on new what is happening outside your business to ensure you can change if needed.


Other Factors to Consider
Design & Planning
Things do go wrong and you need plans to recover. IT system availability is based on many factors including selection of equipment, services and how they are connected / configured. Think about the design of your systems and how failure can be mitigated. Consider both strategic and tactical changes and be pragmatic about which areas you prioritize. This is critical when budgets are tight and spending needs to be justified.
Also, try and align IT strategy with your business strategy and look for IT solutions that meet current and future business needs. Solutions that can be easily changed and adapted to fit your future IT needs are important. If you partner, look for a company who can help you strategically and practically to solve business needs by developing your IT.


Getting the most for your Users
Consider your users and identify service solutions that puts them at the centre of your IT support practices. Not just customer service, but also pro-active support and training users. Getting the most from IT systems is frequently hampered by poor user knowledge, sub-optimal processes and lack of regular training. Make these elements part of the IT support process by creating and building in regular update & briefing sessions. You can make this engaging by focusing on the latest features and be seen to be more proactive and collaborative.


Measuring Service
IT systems are at the heart of running your business and staff productivity is essential. Reliable business systems & applications reply on a sound IT system, under pinned by great support. Ensure you have some measure to gauge the availability of your system. Think about service levels (SLAs) that your business needs. Monitoring and management information like utilization, availability and inventory are important and needed to be presented clearly in non-technical language. This helps owners & managers relate to IT, remove 'silo' mentality and plan for better outcomes.


Best Value vs Lowest Cost
In tough business climates it is easy to seek lowest cost solutions. However, seeking the best value, not lowest cost is perhaps the better option and brings the greatest benefit to your business. Reading guides like this can help, as can 3rd party review site and talking to associates. The choice of Single or Multiple Supplier is closely related and often created by seeking lowest cost. You may find the lowest monetary cost by selecting multiple suppliers, but don't overlook the added management costs this creates. i.e. When problems occur and blame is passed from 1-supplied to the another, you are left having stuck in the middle.


Focus on Solving Problems
Increasingly the collaborative approach to IT support is starting to replace the traditional 1st, 2nd and 3rd layer models. In traditional IT support situations, especially the larger organizations, you may have experienced being passed from one agent to the next. Each time having to repeat your details, explain the problem again until someone, anyone could finally fixes your problem. A frustrating experience for customers and those providing the IT support. IT support teams can work better when there is a high degree of collaboration. Such as where junior and senior staff are located together, where interventions and advice become the norm. Technology also key, with ticketing systems recording all actions, customer self-service portals and knowledge bases all helping to improve service.


Outsourcing Vs In-House IT Support
Size Matters
For small & medium sized business, using an IT Support company can save money over hiring staff. This can range from being able to reclaim VAT, avoiding paying staff salaries, bonuses, training and other employment costs. Depending upon the model you choose, you only pay for IT support when you need it. You also benefit from economies of scale and frequently small business can be supported at a fraction of the costs of a full-time IT technician.
Expertise
Also look for comprises with a range of expertise and skills, across a good-sized team. Try to identify companies that are totally reliant upon 1-individual and avoid 1-man-band IT companies. Identify companies with many 'man-years' of experience in a broad range of technology. For existing IT Teams, identify their skills and the potential to build and keep functions 'in-house'. When using external partners, identify complimentary skills to build your ideal team. Finally, consider what expertise you need now and in the future as systems change and develop.
Power & Control
In some cases, you can feel like a 'hostage' to a staff member who has power virtue of their knowledge. In other cases, by a powerful supplier who control some key aspect of your IT system. This can happen if you choose outsourcing or in-House IT Support. However, there are things that can be done to reduce this risk.
Individual power can be handled in a number of ways, using psychology and management theories. French & Ravens 'sources of power' or Thomas & Kilmans 'conflict resolution model' could be a useful start. For outsourcing, start with a non-disclosure agreement (NDA) and then a comprehensive service agreement and copies of key documentation. Finally, keep reviewing and updating as things develop, this will also improve trust and develop a strong business relationship.
IT support is only needed when things go wrong! IT engineers are people too and a lack of power or stress created by overwork can also be an issue. Technical staff can sometimes feel under-appreciated & disgruntled, leading to them looking for the next 'opportunity'. Look out for these problems and it might save a lot of time and cost.


Peace of Mind
These solutions present different challenges & issues! Outsourcing means you don't need to manage people, manage annual leave, sickness or training. However, in-house IT teams can provide bespoke and specialist support that general IT support companies cannot match. Therefore, outsourcing will give you peace of mind that you don't need to worry about the IT operations. On the other hand, building your own IT team could give you the specialisms and control you need.
Proactive not Reactive
In-house IT teams can often be resource & budget constrained and seen as a business overhead. In this case the service received can become reactive as in-house teams try to keep up with high customer demands. Outsourcing can mean gaining access to 24*7 monitoring and automated systems that change the service received from reactive to proactive. Access to better systems, which enable better support, proactive and preventative routines can make a big improvement to your business. This also applies to cyber-security, where regular scanning and testing helps protect company data and improve your peace of mind. i.e. server hardware, where proactive monitoring can identify predictive disk failures before they happen and help avoid disasters.


In-House vs Co-Managed IT Support
The option of co-managed IT Support is becoming one that many businesses are now considering. Here are some of the factors causing this change in thinking;


Flexible
A co-managed solution can add a great deal of flexibility vs simply adding headcount to your in-house IT team. Because contracts can be flexible it becomes an easy extension to your current in-house IT team. This flexibility extends to the type of services & skills you can 'draw down' under your contract. i.e. get IT support cover when staff are training, sick, or when extra resources needed to help with a project.


Knowledge & Skills
Partnering with an MSP means you benefit from a wider skills pool, industry and sector experience gained through working with many companies. Not only skills, but perspective too. It can be easy for any team to fall into 'group think' and 'that's how we do it here' mentality. An MSP can bring this new perspective and fresh-thinking.


Tools & Systems
You are also likely to benefit from a wider array of enterprise IT tools by working with an MSP. Not only might you get a better set of tools, but better pricing too. That's because the costs are effectively 'shared' across the MSPs customer base. i.e. Adding devices to our RMM means prices at a few pounds per device per month, with no additional capital expenditure. Whereas an in-house solution would need a one-off investment.


Processes & Accreditations
You can also benefit formal standards like ITIL, Cyber Essentials (CE), Cyber Essentials Plus (CE+) and ISO27001 standards. You benefit from the efficiencies and risk reduction these processes bring. But also gaining an understanding of how these work for future potential application to your business. Partnering also means benefiting from vendor accreditations too, such as Microsoft, HP, Sophos and other key IT vendors. i.e. Authorised MSP Partners will have priority access the best resources at Microsoft in the event of a critical issue.


Reduce Risk & Stay in Control
There can be an understandable reluctance to bring in / work with an external partner. This can be perceived by staff as the 'thin end of the wedge' that will lead to job losses. These issues can be controlled by closely monitoring work and fostering a collaborative approach to working. This can also benefit the internal culture by bringing in new practices & processes. Further, going co-managed can also help remove reliance on specific individuals, where 'technical power' can be an issue.


Be more Strategic
Choosing a co-managed approach can also help you move away from day-to-day firefighting mentality. Working with an MSP can foster this strategic approach, re-focusing you toward road mapping and where you are headed. And of course, your new partner can have an input here too.


Some Examples
Co-Managed IT Support can include remote management & monitoring, cyber-security testing or service desk support. There are many other examples, the best applications are often easily 'bolted-on' and work effectively alongside existing in-house IT teams.


Managed IT Services for SMEs


Overview
Running a business is tough and services that can use to increase efficiency, save time or money are worth considering. Managed services fit this description, especially for small and medium sized business. Further, as businesses increasingly rely on digital technology, the need for the right IT services & support will be vital. These same digital technologies are helping create a wide of new IT Managed Services for businesses. These new services are changing how IT is provided, from ownership and capital expenditure toward monthly recurring as-a-service business models. IT support is by definition included in any 'managed service' and therefore needs mention here. There are many benefits and some of these outlined below;


Get the Latest
Because you subscribe to an on-going service, the MSPs ensure you get the latest technology, software and solutions. You don't need to worry about ownership, but do make sure your service is regularly reviewed and updated. Typically, as service subscription such as Microsoft 365 is continually updated, patched and secured to a high-level. This type of service would normally be way beyond the budget of most businesses. With users paying only a small proportional cost for the latest IT features & functions.


The Value of Partnerships
Partnering with a good MSP can bring a host of benefits. By selecting the right partner, with a flexible support structure, you can use and subscribe to services in a highly flexible way to get the most business benefit. It's not just about getting the latest features & software, but about the 'service framework' you establish. This 'framework' allows you to access all the MSP's services on a completely flexible basis, getting the best commercial terms available, with instant flexibility. Benefits include ability to turn -on / off any MSPs service as needed, with minimal set-up costs and maximum scope to change and adapt to an evolving business environment.


The New Outsourcing
IT Managed Services provide a new way to outsource your IT infrastructure & services so that you can get on with running your business. And because there is a team of dedicated technical experts in most MSPs, you save considerable time & cost. You don't need to running your own IT team or buy hardware or software to do your job.


Cyber-Security
Cyber-security is of course a major concern for all businesses and Managed Services cyber-security needs to be considered too. Therefore, look for providers offering high-levels of security and business security features you might need. These should include 2-factor authentication to secure user access, the ability to audit and log activities and regular updates to the system. Also, don't just assume it's all ok, make sure you have regular reviews, reports and discussions about your Managed Service. Finally, make sure you are not putting your business at risk by sharing accounts or login details and make sure passwords are regularly changed.


Choosing the right MSP
If you do choose the Managed Services route, we suggest looking for a provider with a proven track record, backed by leading industry providers (like Microsoft or HP) This will give you confidence that services are solid and built for business. Also, a good MSP will give you advice on the best options around hardware, software and the development of your infrastructure and applications.


Data
Many Managed Services are based around cloud solutions and it's important to understand where you data is held. You need to think about the impacts of Brexit and the requirements of GDPR. Under the implications of where your data is stored and processed in some data centre around the world. Therefore, ask where your data is hosted and consider data backup and data retention if the worst were to occur.


Work Anywhere
If you do choose the Managed Services route, we suggest looking for a provider with a proven track record. One that is backed by leading industry providers like Microsoft or HP. This will give you confidence that services are solid and built for business. Also, a good MSP will give you advice on the best options around the services vs owning your own hardware or software. Getting good impartial advice will be key to the development of your IT infrastructure and applications.


Work Anywhere
Most IT Managed Services are now cloud-based, meaning they can be used anywhere, anytime and are built with mobility in-mind. This is particularly important during Covid lockdown, but is also changing the ways business work with their employees and customers. The changes and developments in applications, like Microsoft Teams, means that technology does not limit what can be done remotely. However, there is always a limit to what can be done and some of the best solutions involve working remotely and together. Here again Managed Services and cloud technology are key.


Anything as a Service
Managed Services continue to expand and now virtually anything can now be provided 'as-a-service'. These services now range from phone systems, infrastructure, cyber-security to software licensing and even bespoke applications. But just like any product or service, you need to check its right for you and your situation. Look at the costs and the intangible pros & cons of all our options before making your decision.


Summing Up
Whichever option you choose, ensure that using an MSP or a Managed Service gives the business benefit you need. Such as, streamline your processes, making you more cost-effective or productive. Often there is no single solution, rather a balance between in-house, outsourced and managed services provides a best solution for you. However, this will be based upon the exact nature and individual situation of your business and its needs. Further, where you are in terms of your IT investment and the 'product life-cycle' of your systems is also a key factor to consider. Thankyou for your time and we would love to help, below are some ways we can assist you.
Outsourcing your IT services means you get access to a team of IT experts available when you need it most.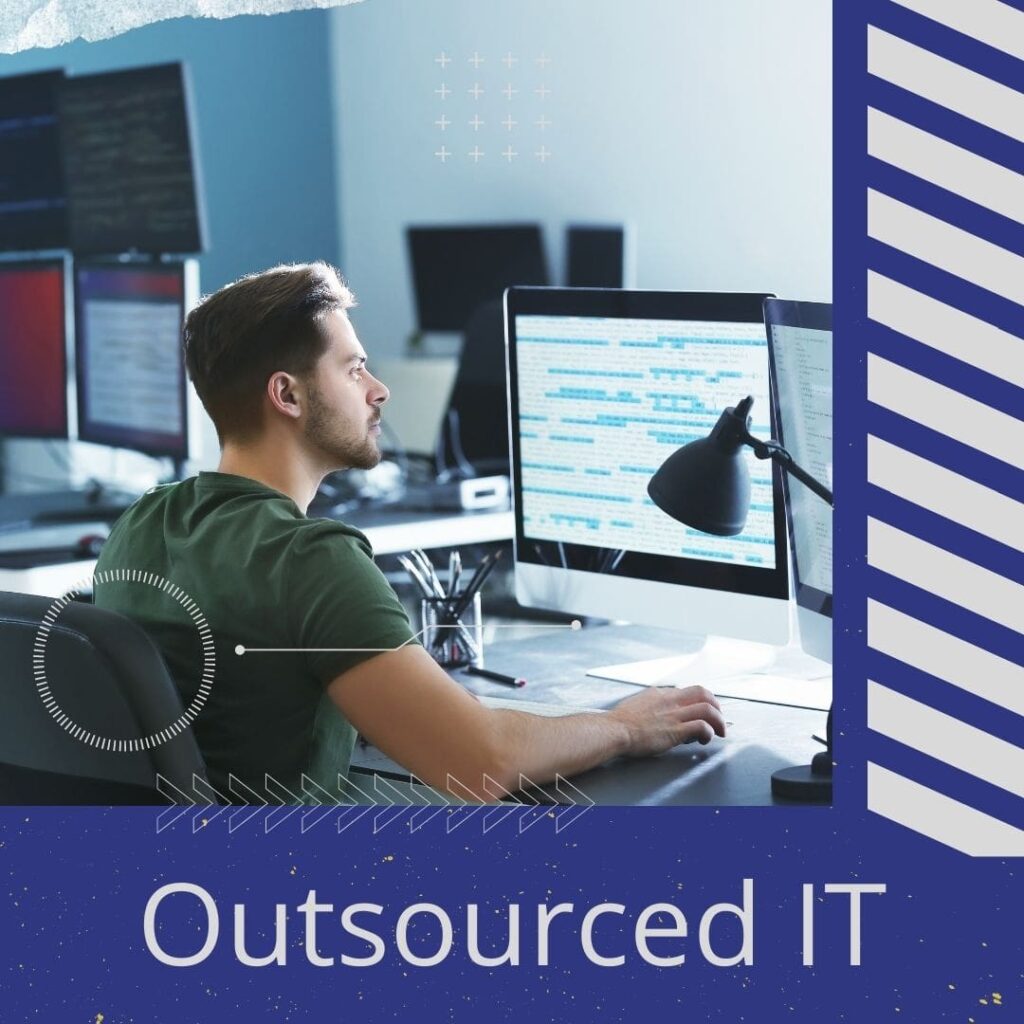 Outsourcing your IT support is a cost effective solution for businesses. We offer flexible IT support packages allowing you to build a tailored IT support plan. 
We also offer remote IT support and Pay & Go IT Support with RMM provides monitoring and reporting.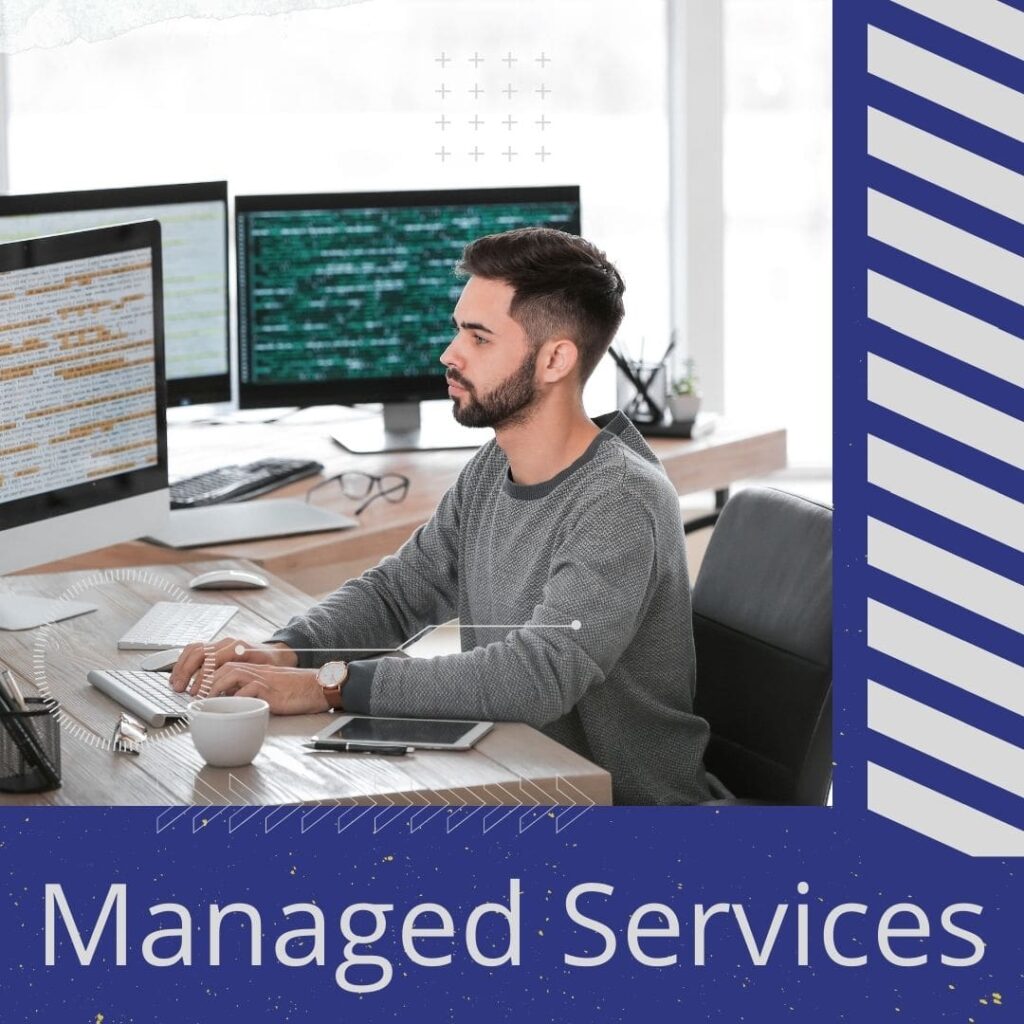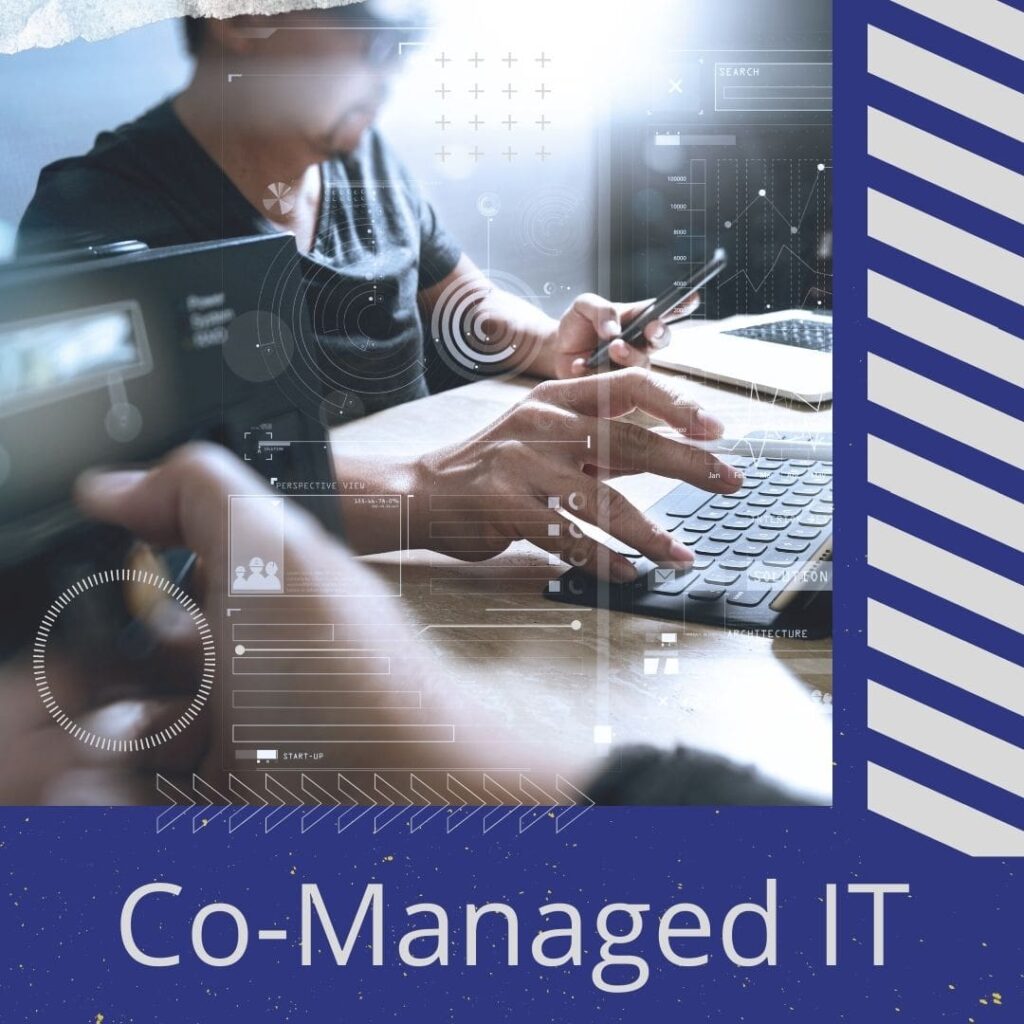 Finally, by working with larger businesses we have developed a range of Co-Managed IT services. These services are designed to work alongside your existing IT teams and provide many benefits as outlined above.
Discover how we can help. Contact us today!