IT Planning & IT Strategy Guide
What is an IT strategy?
An IT Strategy should outline your business's long term view of its technology requirements. IT strategies normally include a plan for achieving this needs. They typically cover a period of between 3-5 years, and aim to uncover growing demands, business capabilities and limitations and business goals.
An IT strategy places the emphasis on existing and required business technology and systems. This helps to understand when and how the business will need to invest in their technology and ICT infrastructure.
Why do I need an IT strategy &  plan?
Without a plan, you'll struggle to compete with competitors who do have a plan. That's the conclusion of independent research, commissioned by Exact. It showed that SMEs who had created plans were much more likely to be more profitable. Generating increased profits will be of interest to business owners at any time, but especially so when cash funds might be hard pressed for SME businesses facing the uncertainty of BREXIT or the Coronavirus Pandemic.
This guide focuses on the areas of IT planning and IT strategy for businesses and is primarily aimed at small & medium enterprise (SME) business owners or managers who have a responsibility for IT planning or provision of IT services in their business.
Some Interesting Facts:
Changing your strategic business direction is prone to failure and 80% of organizations fail to deliver their plans
1 in 4 business don't have a plan
Your business could be losing out on nearly 20% extra profit by not having business plan
Business that have a plan were consistently more profitable than those that did not
Gartner's 2017 CIO Survey 71% of IT leaders thought their organizations were not effective at planning & IT strategy
Hewlett Packard (Aruba) undertook a recent study of over 500 SME businesses across Europe and found that 66% of senior decision makers think that cloud applications / mobile devices and creating a digital workplace was a strategic priority. However, 50% of those businesses had no plans to implement such a strategy
Change is inevitable. It doesn't need to be scary. By having an effective business strategy and disaster recovery plans within any organisation.
Business Strategy
Developing a business strategy often involves management consultants and tools like SWOT and PESTLE. However, tools like this need data that supports the arguments and models being used. Historic data that is often held in legacy IT systems, which seldom talk to each other, need to be linked and information bought together in order to make good decisions.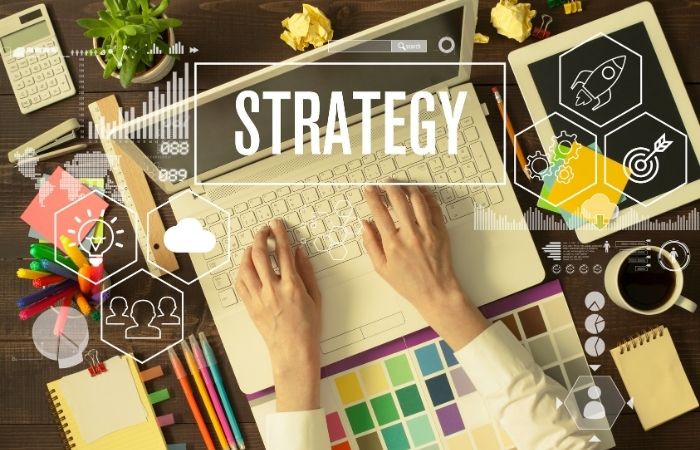 Implementing a business strategy will involve change. And to ensure that chance has been effective requires monitoring and feedback. IT plays an important role in measuring and reporting on current performance. This means ensuring data can be gathered in real-time data, extending IT systems to all points of the business and bringing this data together for analysis.
Business strategies that look to increase profits mean examining business processes and looking for efficiency savings, often enabled by automating IT and setting up workflow systems that control and report on the general flow of work through the business. Where business strategies aim to increase turnover by expanding or developing new markets, digital marketing and creating a digital workplace connecting sales teams and the wider business is likely to be a key enabler.
Finally, all business strategies need to assess risks and how to mitigate these risk factors. Ensuring business continuity and disaster recovery plans are reviewed and maintained is essential, especially during periods of change.
Decision Making Strategy
Developing and implementing business strategy means making decisions. This is difficult when there is uncertainty around facts and information, where there is complexity, high-risk consequences or numerous alternatives. Add to this the risks around change, implementation and the uncertainty of how people will react. These all make strategic decision-making difficult. So, what can businesses do to improve their decision-making? These simple steps can help;
Environment: Create an environment for change. Look at ways to continually improve. Listen to stakeholders and be ready to take advantage of new opportunities
Investigate: Make sure you understand the situation. Look for evidence and watch out for personal bias or group-think.
Alternatives: Look at the alternatives, including doing nothing!
Explore: Explore the alternatives by engaging a wide range of stakeholders, create scenarios and see how these stand up to testing.
Refine & Select: Based on your feedback and evaluation refine your ideas. Represent if needed and select the best solution.
Instinct: Management is not formulaic, and your experience, gut-feel and instinct are also very important. However, you must balance this by a 'proper' evaluation, don't 'just do it'!
Change:– Think about the implications of changing your strategy. Try to make it adaptable and flexible by considering a range of outcomes. Be ready to change!
Strategy Alignment
As your business grows and develops, it will be important to align strategy across all elements of your business. Here are some simple steps to help you achieve this;
Start with the Business Strategy and cascade across your business functions
Don't spend too much time creating a highly polished strategy, things move quickly, so be pragmatic
Plan for all areas of the business – Marketing, Operations and IT are particularly important
Keep checking for alignment, making sure functional or team plans support the overall business strategy / objectives you have set
IT Strategy
Gartner's 2017 CIO Survey found that 71% of IT leaders thought their organizations were not wholly effective at planning & IT strategy. Gartner concluded that whilst organizations has strategic plans, they didn't address key emerging areas of IT.
Hewlett Packard (Aruba) also undertook a recent study of over 500 SME businesses across Europe. They found that 66% of senior decision makers thought that cloud applications / mobile devices and creating a digital workplace were strategic priorities. However, over 50% of the businesses surveyed had no plans to implement strategies in these areas.
Both Gartner and HP surveys appear to suggest that strategies and plans can quickly become outdated. Additionally, they fail to keep up with emerging technology. We suggest developing an on-going IT Roadmap that is regularly reviewed and evaluated, helping SME business keep a balance between the operational demands for IT and its strategic development.
Technology Watch
The face of Information & Communications Technologies (ICT) is ever changing and your team or your IT partner needs to be up to date in the latest emerging systems & solutions. Enabling technologies like cloud computing and fibre-broadband have seen a major shift in SME solutions over the recent years. The once costly corporate IT capabilities are now available to SME business through these technology shifts and the move to operational expenditure from traditional high capital expenditure projects.
Maintaining a technology watch means taking account of your own investment lifecycle. This involves watching key vendors or solutions emerge and develop and knowing when to make the change. Attending trade shows, finding out what the competition are using or looking at what similar sectors are using, can all build a picture of what is out there and how this can be incorporated in your IT strategy
IT Roadmaps
So you have an overarching direction of travel, an IT strategy that fits the business and supports the wider business objectives. How do you move forward? For most small and medium businesses developing and executing the plan is the key challenge. Often, too little attention is given to change, stakeholders are not ready and the details can be overlooked. This is especially true where companies are short on resource or simply assume their IT partner is going to take the 'headache' away. We recommend developing an IT Roadmap to help get ready for IT change, keeping IT strategy & implementation aligned and ensuring business processes & management can feedback in to this on-going process.
Therefore, IT Roadmaps should be your on-going plan for the development of your IT system. They should capture the strategic thinking and direction of development for your IT system. For SME businesses we recommend detailed focus on the next 3 to 6-months and then a more over-arching plan for the next 12-months and beyond. This helps keep planning real, allowing you to develop an emergent plan that can change and develop as you progress and which is so important to SME business flexibility. Doing this can maximize your return on investment and help improve your competitive advantage. Business owners and their senior managers need to own and be on-board with IT Roadmaps. IT change can impact on all all functions of business and impacts a wide range of stakeholders.
Further Reading:
Planning & Strategy Tools
The following tools are used to develop business strategies and strategic thinking. Their relationship to IT strategy ranges from directly relevant to one of understanding the macro or business environment in which you operate.
This is a model for developing or understanding existing business models. It comprises a visual chart containing a businesses product's, resources, infrastructure, customers and finances. The model helps to understand and align these functions and can be used for a range of purposes from business planning, strategy and risk analysis. This can also be a good high-level tool to identify how and where IT is or can add value, reduce costs or improve process / information flow.
Political, Economic, Sociological, Technological, Legal & Environmental are all factors governing the macro factors in which the business operates. Whilst these may at first glance appear high-level, they can all be applied to the environment in which the business operates, but also about IT strategy, its adoption and implementation in your business. i.e. Legal – What legal implication is there if your company data is held off-shore or outside the UK? Obviously, this will depend upon the business. But the idea of PESTLE is to make you consider the widest possible implications of your chosen strategy.
SWOT
Strengths, Weaknesses, Opportunities and Threats is a well know business tool, but often not used effectively. In a business strategy context Strengths & Weaknesses refer to the capabilities of the organisation, whilst Opportunities and Threats refer to the external environment in which the business operates. A SWOT analysis can also be applied to strategic IT decisions and the evaluation of alternative options. As a result, SWOT becomes most powerful when Strengths are matched to Opportunities and where Weaknesses are matched to Threats. In this way potential benefits can be maximised and potential risks can be mitigated.
How we can help with IT Strategy
We are an IT services company that specialize in being your strategic partner. We do this by understanding your business and making sure your IT can help you deliver better business, improved performance and increased profits. This is important because around 1-in-4 SMEs don't have a business plan and it's estimated that those who don't, lose out on 20% extra profit. Talk to us today about how we can help you plan, be more strategic and help you ultimately make more money.